Recent and current members of the HVC/MAS:
In keeping with public health advisories relevant to the current COVID-19 pandemic, we have CANCELLED the meeting on Thursday, March 19, at the Kelsey Museum.
We have tentatively rescheduled the meeting for April 16, 2020, and the related Field Workshop at the Wooster Site is tentatively scheduled for the weekend following April 16.
If you have questions, feel free to contact us.
Thank you, 
Ann Zinn, Acting President                                                                                                         annczinn@umich.edu or (734) 730-0257
John Farmer, Acting Secretary                                                                                                  ajf-jlf@sbcglobal.net  or (734) 439-1297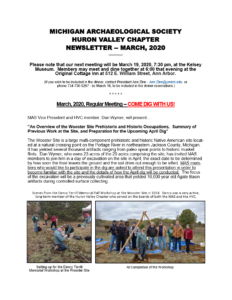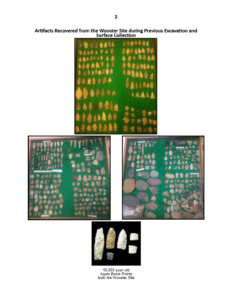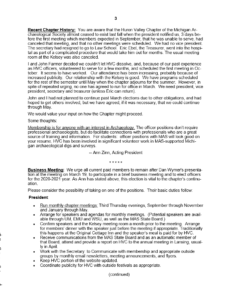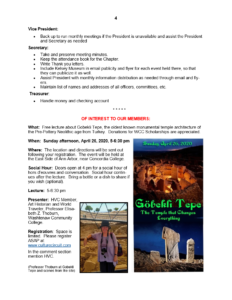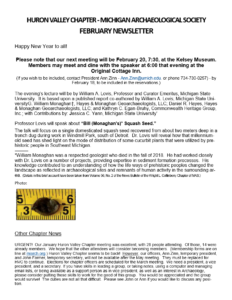 Please Note:  Membership forms are at micharch.org, not miarch.org . The newsletter was sent out before this error was noticed.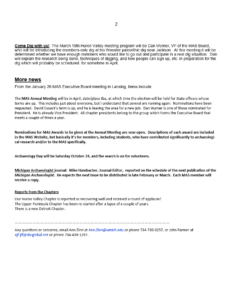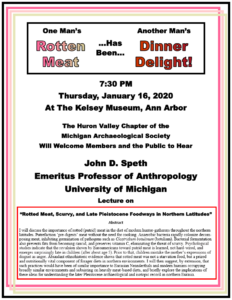 Friends of the Michigan Archaeological Society's Huron Valley Chapter:
We are reminding you that our January meeting will take place at 7:30 PM on Thursday, January 16, 2020, in The Kelsey Museum at 434 S. State Street, Ann Arbor.
The attached flyer details Professor Emeritus John Speth's lecture on one major way in which our distant forbears tolerated foods most of us wouldn't even consider eating today.
Dinner with the speaker (and a 21st century menu!) will take place at the Original Cottage Inn at 6:00 PM, before the meeting.  If you are an HVC member and would like to attend, let me know by Wednesday noon in order to be included in the reservations.
Hoping to see you next Thursday evening!
Ann Zinn,
Acting President of the HVC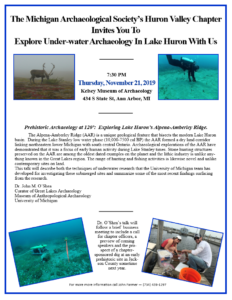 To the HVC membership:
Please join us at our next meeting on November 21, 7:30, as usual at the Kelsey Museum on the UM campus. Dr. John O'Shea will be presenting on "Exploring Lake Huron's Alpena-Amberley Ridge." His abstract follows:
The Alpena-Amberley Ridge (AAR) is a unique geological feature that bisects the modern Lake Huron basin. During the Lake Stanley low water phase (10,000-7500 cal BP) the AAR formed a dry land corridor linking northeastern lower Michigan with south central Ontario. Archaeological explorations of the AAR have demonstrated that it was a focus of early human activity during Lake Stanley times. Stone hunting structures preserved on the AAR are among the oldest dated examples on the planet and the lithic industry is unlike anything known in the Great Lakes region. The range of hunting and fishing activities is likewise novel and unlike contemporary sites on land.
This talk will describe both the techniques of underwater research that the University of Michigan team has developed for investigating these submerged sites and summarize some of the most recent findings surfacing from the research.
——————————————
Update on the continuation of the Huron Valley Chapter:
The Huron Valley Chapter of MAS had a successful meeting October 17. It included a good attendance of current members and the welcome addition of a few students from Wayne State and EMU. A program by MAS State VP, Dan Wymer, gave us a current update on a prehistoric dig near Jackson, and a possibility of scheduling a workshop there next summer for MAS members.
The long, almost 100-year history of MAS was presented; a Society which has existed to bring together amateur and professional archaeologists to share knowledge, especially of Michigan Archaeology. The local HVC chapter, now one of 7 under the State MAS umbrella, has had a strong historical connection to U of M where MAS started.
Unfortunately HVC is faced with the unexpected need for officers in order to continue. At the October meeting an appeal was made to the audience, which resulted in a request for a description of the duties of the HVC president, Vice president, and Secretary be sent out to the members. Ann Zinn will continue as "interim president" and John Farmer as secretary until this is resolved, which we hope will be at the November meeting.
The descriptions of official duties follow. Please consider serving MAS by running for one of these positions and saving this historic chapter. We will have a short business meeting about this at the November meeting prior to Dr. O'Shea's presentation. See below:
Duties of local MAS chapter officials:
President of Huron Valley Chapter:
• Receive communications from the MAS State Board.
• Publicize and run monthly chapter meetings. September through November and January through May.
• Arrange for speakers and agendas for monthly meetings. (Note: Many speakers are available through the UofM, EMU, and Wayne State, as well as through the MAS State Organization. At this time speakers have already been arranged for all months except February and May of 2020.)
• Confirm speakers, and the Kelsey meeting room, a month prior to the meeting, checking for any special needs for the program. Invite speaker for dinner at the Original Cottage Inn, if that tradition continues.
• With Secretary, publicize HVC with monthly meeting announcements to appropriate outside groups.
• Communicate with membership in a monthly e-mail newsletter, and distribute other relevant archaeological announcements as needed.
• As an automatic member of the State MAS Executive Board, attend and provide a report to the annual meeting in Lansing, usually in April.
• Keep the HVC portion of the State website updated.
• Send out annual membership renewal reminders.
• Coordinate publicity for HVC with outside festivals as appropriate.
Vice President of Huron Valley Chapter:
• Back-up to run monthly meetings.
• Fundraising, if any.
• Liaison to other projects (such as the Salt Springs Project in Saline).
• Assist president of the Chapter, as needed.
Secretary:
• Take and preserve meeting minutes.
• Keep the attendance book for the Chapter.
• Write thank you letters.
• Provide the Kelsey Museum with material for their monthly publication of events.
• Assist President with the meeting flier distribution as needed.
• Maintain list of names and addresses of all officers,, committees, etc.
Treasurer:
• Handle money and checking account.
• Pay for speaker's dinner from chapter funds.
• Responsible for the Membership list, including who is current. Updates come from the State Treasurer as dues are paid.
_______________
We hope to see you at the meeting on November 21. Together we can enjoy Dr. O'Shea's presentation on Michigan's amazing Great Lakes underwater archaeological developments, as well as save the Huron Valley Chapter. See you there!
Ann Zinn 🙂
Huron Valley Chapter President
.
**********************************
**********************************
 (18 people attended in October)
The HVC October 2019 meeting will be held, as usual, in the Kelsey Archaeological Museum on the University of Michigan campus, at 7:30 pm on October 17. 
The program will be presented by MAS State Vice President, Dan Wymer, and the title will be "The Agate Basin Late Paleo/Early Archaic Component At The Wooster Site and the Role of the MAS Dency Terrill Memorial Dig in Locating the Primary Occupation Area." This is a rare Michigan Paleo site dating back as far as 9-10,000 years.  
Dency was an enthusiastic long term member of the Huron Valley Chapter, as well as an MAS Board member.  She would be delighted that her donation has led to a workshop of amateur and professional archaeologists leading to significant new knowledge about the occupation of prehistoric Michigan.
The Museum is located on State St. just across the street from Angell Hall.  The Kelsey is a handsome historical fieldstone building which recently had a modern addition attached to the back.  For the program, please use the historic State Street entrance.  
Parking is available at the Ann Arbor parking structure on Thompson St., about three blocks away or occasionally on the street nearby. 
Huron Valley Chapter President.
The Huron Valley Chapter has its own separate website.
Click below to go to the website: